Ballistic Nylon (Urethane Coated Fabrics)
1680 Denier(11.5 oz/sqyd) , 1050 Denier(12.5 oz/sqyd), 1050 Super Ballistic (13.5 oz/sqyd)
Ballistic Nylon is a heavy duty synthetic coated fabric, woven in a basket weave. It has a strong durability creating a long product life. It can sustain a high volume of usage with minimal evidence of abrasion, wear and tear, and fading.
This is a urethane coated durable water repellent fabric with high abrasion resistance. This is an extremely strong and durable fabric used in many end products.
Available only in black and 60″ wide.
Stock 1680 Denier, 1050 Denier, and 1050 Denier Super
Uses: luggage, tool belts, straps, jackets, chaps, duffle bags, protective covers, office furniture and much more
Colors: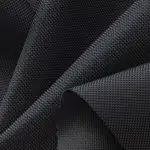 ***Swatches above are a representation of the fabric shade, for a more accurate color standard samples will can be sent to you***
Purchase cut yardage at CanvasETC.