Ballistic Nylon (Urethane Coated Fabrics)
Ballistic nylon was introduced in the fifties by DuPont as a sturdy alternative to standard nylon fabrics. It is made by weaving two yarn ropes together and then coating them with an epoxy resin. This process makes ballistic nylon much more robust than traditional nylon fabrics, which can withstand more significant amounts of pressure, friction, abrasion, and penetration from sharp objects.
Ballistic nylon is a thick, tough nylon fabric with several uses. The DuPont corporation developed ballistic nylon for flak jackets worn by World War II airmen. Ballistic nylon originates in the fabric's intended function, protecting its wearers from flying debris and fragmentation caused by bullet and artillery-shell impacts.
Uses of Ballistic Nylon
Ballistic nylon, which was created to form the layers of flak jackets, has been repurposed as a heavy-duty material. It has been used on backpacks, luggage, belts and straps, motorcycle jackets, watch bands, and knife sheaths. It can also be used in structural applications such as skin-on-frame kayaks and other marine products.
Ballistic nylon is a fabric that's used in the front of chainsaw protective chaps. Ballistic nylon chainsaw chaps can be made with an outer layer of rigid, smooth material that's usually synthetic, with four plies of ballistic nylon inside. Using a drive clutch made of ballistic fibers helps stop the moving chain quickly. In turn, the user may be uninjured during an accident. This is because the drive clutch slips and stops in a matter of a few inches rather than continuing to move forward.
Ballistic nylon products are rarely dyed because it's hard to make a dye adhere to the fabric's outer layer.
Contact our team of fabric experts today to order your ballistic nylon. 
History of Ballistic Nylon
DuPont invented nylon during World War II, and engineers continue to fine-tune the material as a fabric that is resistant to tearing and other forms of damage. The product was initially designed for military and specialized use, serving as an anti-fragmentation ballistic jacket that guards against bullets, shrapnel, and other impacts. Many layers of the fabric were laminated together to form a barrier that protects the wearer against these threats.
In the past, ballistic nylon was used for armor. However, it has largely proven ineffective in stopping bullets and is considered a particularly tough and highly functional material because it still preserves soldiers. In 1978, the military upgraded the protection to Kevlar and a more effective ceramic plate technology – technology that can stop bullets and shrapnel. In the past, military use was the largest consumer of ballistic nylon, but today it is used in many applications. While there is still an emphasis on its use in military equipment, ballistic nylon has transitioned into other products such as backpacks for work and school.
The term ballistic was popularized during the 1980s when new manufacturers entered the market and created heavy-duty luggage. Manufacturers marketed these suitcases to offer ballistic protection, though they were not bulletproof. Even though the kevlar weave is more robust, the cotton canvas still attracts customers and maintains steady popularity. In contrast, Kevlar has been used to replace it in bulletproof vests.
Used most often for duffel bags, briefcases, pet beds, workwear, chairs, backpacks, and luggage, this fabric is ideal when hauling super heavy loads. It withstands high abrasion and is UV and cold resistant with vivid, vibrant artwork. Ballistic nylon is a solid and durable material. Companies should look for ways to use this material in their products to create a product that is both lightweight and hardy. Many products are made using ballistic nylon, ranging from backpacks and luggage to wallets and cases for cell phones.
The original version of this product was made from 1050 denier high tenacity nylon yarn in a 2×2 basketweave. In addition to the actual fabric, many companies use the term "ballistic weave" to refer to any ballistic nylon fabric made with a 2×2 or 2×3 basket weave made from 840 denier and 1680 denier materials.
Ballistic Weave
 Additionally, the ballistic weave is a tightly bound material that provides users with the highest tear resistance, strength, and durability. Durable nylon threads allow users to withstand even the toughest wear and tear. The material also stops bullets from penetration to be used for various applications.
What are the Different Types of Ballistic Nylon?
 Ballistic nylon is a material that has been popular in the market for decades. Though its original purpose may impact resistance and durability, some of the more common uses for ballistic nylon include clothing, home decor, industrial fabrics, and luggage. With a wide variety of options on the market today, it cannot be easy to find the material that best suits your needs.
 Several factors influence the durability of ballistic nylon fabric: denier count, fiber type, weave, and the fabric's construction. Denier is the textile industry term for linear mass density, and it is the unit used to describe the thickness or weight of the material. The higher this value is, the material tends to be sturdier and more durable.
 1680 Denier(11.5 oz/sqyd) , 1050 Denier(12.5 oz/sqyd), 1050 Super Ballistic (13.5 oz/sqyd)
Ballistic Nylon is a heavy-duty synthetic coated fabric, woven in a basket weave. It has a strong durability creating a long product life. It can sustain a high volume of usage with minimal evidence of abrasion, wear and tear, and fading.
This is a urethane-coated durable water repellent fabric with high abrasion resistance. This is an extremely strong and durable fabric used in many end products.
Available only in black and 60″ wide.
Stock 1680 Denier, 1050 Denier, and 1050 Denier Super
Uses: luggage, tool belts, straps, jackets, chaps, duffle bags, protective covers, office furniture and much more
Colors: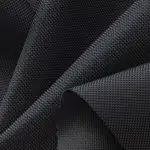 ***Swatches above are a representation of the fabric shade, for a more accurate color standard samples will can be sent to you***
Purchase cut yardage at CanvasETC.