Army Duck Canvas      Numbered Duck    Single Filled Duck
Canwil Textiles is your one-stop shop for all things fabric in the Atlanta area, including duck canvas. We stock a full range of duck fabric canvas in various weights, colors, and widths. All of our duck fabrics are of superior quality and great for DIYer's or if you are searching for the best wholesale fabric seller for your canvas needs, Canwil Textiles has what you need. We treat our duck fabrics with the patented Sunforger chemistry which extends the life of the fabric.
What Is Duck Canvas?
Duck Cloth, sometimes known as just "Duck," is frequently confused with canvas. Canvas has a coarse surface because it is woven from very heavy yarns, whereas duck fabric canvas is made from smaller threads that have been spun into medium/heavyweight yarns and then tightly woven together for a smooth surface and a high thread count. Duck has become linked with a durable fabric suitable for workplace or military uses. The name comes from the Dutch word "doek," which refers to the linen canvas used by Dutch sailors in the Navy for their pants and jackets.
Duck is a plain, tightly woven fabric with a single yarn in the weft and two thick yarns in the warp, resulting in a thick cotton weave that resists wind and water penetration. It's highly resistant to tearing and extremely durable because of its tight weave. It was so robust that it was frequently used as sailcloth in earlier times. 
Duck has a classification system that dates back to the 1920s and is rated from 1 to 12, with 12 being the lightest and 1 being the heaviest. The weight of the material is frequently classified – 7 ounces for light clothing, up to 14 ounces (per square yard) for heavy labor apparel, and up to 18 ounces for things like hammocks, cots, and sandbags. In clothing, it may be stiff at first due to the high thread count, but it will soften after numerous washes. 
There are different types of Canvas. Army Duck Canvas, Numbered Duck, and Single Filled Duck.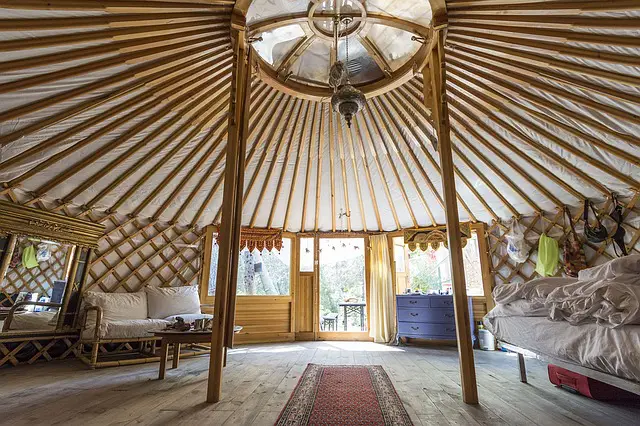 What Is Duck Fabric Canvas Used For?
It's great for tarps, tents, workwear, equipment covers, tennis shoes, and more. It's another term for duck cloth fabric, so it has all the same uses, according to the weight. 
Army Duck Canvas, for example, has high tear strengths and tensile allowing it to be able to withstand the vigor of outdoor living conditions. The army duck canvas, at Canwil Textiles, can be used in tents, packs, or bedrolls, as well as tipis, yurts, boy scout tents, and other living structures.
Numbered Duck also referred to as Cotton Duck, is a sturdy fabric that'll offer flexibility in a variety of projects. The cotton duck fabrics at Canwil Textiles are made with high-quality, long-staple cotton yarn that is woven on the newest looms which result in excellent surface quality. You can use cotton duck for everything from durable clothes to accessories. Here are a few ideas of projects which are perfect for duck fabrics; baby carriers and strollers, window treatments, work clothing, lunch bags, tote bags, backdrops, headboards, and sandbags just to name a few. 
Not sure which is right for your project? Reach out to one of our fabric experts today! 
Buy Duck Canvas By The Yard
While the various weights of canvas can mean it has a large price variance, most are approximately the same width. So, a yard of a number ten duck will be similar in price to a yard of a number four.
This is typically sold by the linear yard. Most canvas duck fabric is between 54 and 60 inches wide, regardless of the weight classification. The costs differ mainly based on the weight and any treatments the fabric has received.
Work with Canwil Textiles for all Your Cotton Duck Needs
Canwil Textiles is the place to go for all your cotton duck needs. We want to see your next project succeed, whether it's a commercial use or DIY home project! Our professionals are ready to help you with whatever you require. Above all, we'll work with you on pricing so you keep your project on track and within budget.
Call 678.985.5434 x201 and one of our fabric experts can assist you in getting started right now.