Army Duck Canvas
Our cotton army duck canvas fabrics are made superior quality open end and ring spun yarns. This gives the fabric very high tensile and tear strengths able to withstand the vigor of outdoor living weather the army duck is used in packs, bed rolls or tents. We stock a full range of army duck fabrics in various weights, widths, colors and finishes. We treat our army ducks fabrics with the patented Sunforger chemistry that extends the fabric life. Sunforger is a water repellent, mildew resistant, flame retardant (optional) chemistry that is applied to a pre-shrunk army duck. These fabrics are used in tipis, wall tents, yurts, boy scout tents and other livable structures. All our army ducks are certified to meet Mil CCC-C-419G standards.
10.10 oz Army Duck Canvas(37″, 63″ and custom widths)
8.5 oz Shelter Tent Army Duck Canvas made with 2 ply yarns
Lightweight with high tensile and tear strengths
Used in tenting and outdoor applications in natural(loomstate) or Sunforger Pearl B (used for boy scout tents)
12.29 oz Army Duck Canvas(37″, 63″ and custom widths)
11 oz Army Duck MIL-C-43627D Canvas(61″, and custom widths)
15 oz Army Duck Canvas(Made with Ring Spun yarns)
GOTS certified army duck canvas
Sunforger Cotton Duck Canvas – regular stock of Sunforger weights, widths and finishes

Weights:  10 oz, 12.65 oz, 8.25 oz, 15 oz
Widths:  36″ and 60″ finished
Finishes:  FR (stock), Colorless(stock), Pearl B (stock), linen/pigment gray/tan (custom runs)

All our Army Duck Canvas conform to Federal Specifications(CCC-C-419G)
We also convert our fabrics to meet Mil and Fed specs: AA-59708, CCC-D-950F, FED-STD-191A, MIL-C-5646F, MILC-C-12095G, MIL-C-43627D, CCC-C-428 & others.
Projects Using Army Duck Canvas
Army duck canvas is extremely versatile! Here are some ways our customers use Canwil's army duck canvas:
Tents
Due to the water repellent qualities of our canvas, it is a perfect fabric for tents! Popularity around "glamping" is growing. With our canvas, you're able to create elaborate, beautiful tents for an upscale camping experience. Likewise, real campers who want a camping experience find our army duck holds up well to extreme conditions. With Sunforger finish added, our fabric does an exceptional job repelling water and keeping people and items inside dry. Canwil Textiles also offers unfinished canvas for those who don't need the benefits of Sunforger.
Yurts
Like tents, yurts are large structures made of fabric. They are an ancient structure. According to Wikipedia, "he structure comprises an angled assembly or latticework of pieces of wood or bamboo for walls, a door frame, ribs (poles, rafters), and a wheel (crown, compression ring) possibly steam-bent. The roof structure is often self-supporting, but large yurts may have interior posts supporting the crown. The top of the wall of self-supporting yurts is prevented from spreading by means of a tension band which opposes the force of the roof ribs."
These days, you'll see state parks, campgrounds and private land using yurts as long term structures available for rent.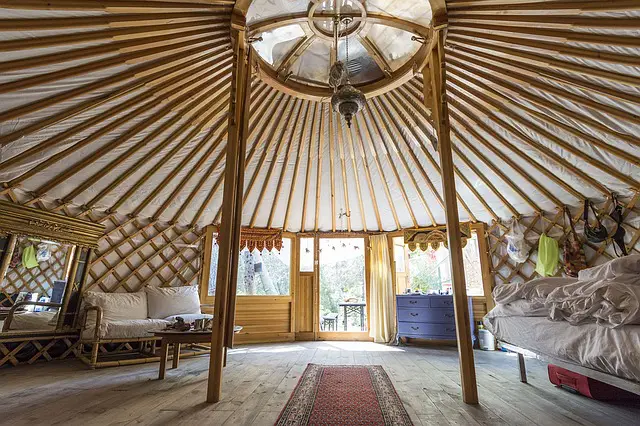 Tipis
Tipis are fun structures to build on your own. You see more and more of them in modern home designs as both indoor and outdoor meditation or lounging spaces. Use tipis for your next glamping excursion. According to Mother Nature Network, "A tipi is a conical shaped dwelling that was designed and refined by various Native American tribes living in the Great Plains of the United States. Like the yurt, the tipi was valued both for its transportability and its flexibility in terms of climate and weather. In hot weather a tipi dweller has only to open up the smoke flaps and maybe lift up part of the wrap to catch any moving air, while in cold weather, tipis can be heated by wood fires and made warmer with additional liners and windbreak fencing."
Slipcovers
Due to the dense weave of this fabric, there's less likelihood of water penetration. This is why army duck is useful for slipcovers. You can canvas duck slipcovers for outdoor applications or anywhere you want a natural, rustic look! These slipcovers are washable too. Although we don't preshrink this fabric, it doesn't experience the kind of shrink other fabrics do.
Why?
Because of the dense weave, there's less likelihood of shrinkage. How's that for convenient?
Lastly, army duck canvas is so hearty, it can withstand many, many years of use. Indeed, some of our customers have even repurposed their canvas over time. Therefore, it gets multiple uses over the fabric lifetime. We highly suggest army duck for high traffic areas. It can hold up over other types of fabric.
Shop with Canwil Textiles
What sets us apart from our competitors is our commitment to customer service. We don't just sell fabric, we sell solutions. Whatever you next project requires, our textile experts will work closely with you to get the right supplies for your application. Canwil has worked alongside many companies and individuals for both large and small scale projects.
Ready to talk about your project? Contact us today.
Army Duck Canvas swatches:
***Swatches above are a representation of the fabric shade, for a more accurate color standard samples will can be sent to you***
If you want to purchase army duck by the yard, please visit CanvasETC for a full selection of our fabric.
What is Sunforger®?
"Sunforger is a mineral dyed, water-repellent, mildew and rot resistant finish designed for outdoor uses such as boatcovers, tents, awnings, and camper tops. While Sunforger is designed for 100% cotton fabrics, we mineral dye poly/cotton blends. We will match the pearl b shade in a vat dyeing for blends. Maximum width for Sunforger is 68″ greige."
MF&H Textiles, Inc.