Aluminum Extrusions
Portable SEG Tension Fabric Lightboxes
Innovating the way you display your business is one way to draw attention to your brand. In a large convention hall with 1000s of exhibitors, how do you differentiate your company? In a sea traditional booths, add dimension with aluminum extrusions.
If you frequent industry shows for your business, you've undoubtedly seen some of these new, trendy exhibit booths. Aluminum extrusion booths are also known as modular displays.
There are lots of reasons why people choose modular displays featuring aluminum extrusions, but we'll just name three. First, the design is flexible, giving companies complete design autonomy. Second, the marketing message is easily changed out. Re-skinning your booth takes no time at all. Lastly, modular designs travel well. Everything packs up easily!
If this design sounds right for you, read below for a full guide on aluminum extrusions for trade show booths.
Anatomy of a Modular Booth with Aluminum Extrusions
There are many ways to combine components to create a unique trade show booth design. Here are some basic pieces available for modular aluminum extrusion booths:
     

Extrusions (a.k.a. the frame)

     

Corner Pieces

     

Connectors

     

Kiosks

     

Tables

     

Shelving

     

Brackets for Television Monitors

     

Collateral Stands
Sort of like a giant Erector Set, your marketing team is able to create a one-of-a-kind design to suit your specific needs. At Canwil Textiles, we understand there is no one-size solution to your trade show needs. So, we work with you to create a booth as unique as your brand.
Let's get into each product line specifically so you understand our aluminum extrusion collection.
8 Way Extrusions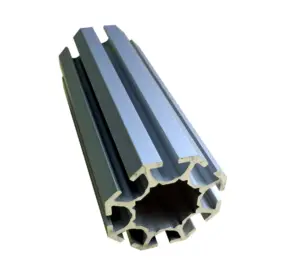 Eight-way extrusions allow for both complex and simple trade show booth designs. Our collection is able to support frames and supports of many lengths. By combining our products, you can create intricate and unique designs that reflect your company and the needs of the exact show you are attending.
Although we won't list all of our products here, these are some of the 8 way aluminum extrusions we offer:
Accessories for 8 Way Extrusions
Our accessories add more dimension to your aluminum trade show booth, and include: Iron Adjustable Feet, Zinc Adjustable Feet, End Caps, Beam Connectors, Straight Connector, Panel Hooks, and Bean Connectors.
By utilizing these accessories, you can create more elaborate booths. Like all aluminum components, they are easy to use and disassemble.
Square Extrusions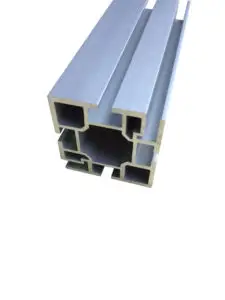 Square extrusions are just that – square. Rather than the rounded 8 way extrusion, square aluminum extrusions are perfect for designs that require straight, clean lines. Like all our extrusion systems, we can build your booth any way you like!
     

Here are just some of the products in the square extrusion system:

     

40mm Square Extrusions with Grooves (4 and 8 Grooves Available)

     

60mm Square Extrusions with Grooves (4 and 8 Grooves Available)

     

80mm Square Extrusions with Grooves (4 and 8 Grooves Available)

     

100mm Square Extrusions with Grooves (4 and 8 Grooves Available)

     

Corner Pieces

     

Fabric Extrusion Products
Accessories for Square Aluminum Extrusions
We have a variety of accessories for our square extrusions including but not limited to: Connector Locks, Hinges, Drop Extrusions, and Round Extrusions.
SEG Frames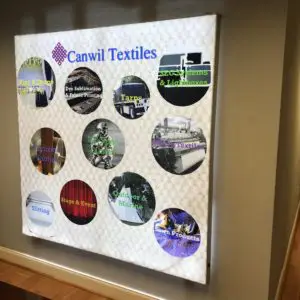 Silicone Edge Graphics, or SEG frames are used to create LED lightboxes out of extrusions and backlit fabric. These stunning designs aren't only for trade show use. You can also use them in offices, restaurants, and in waiting rooms to market your brand and products. We sell all the extrusions, lighting, and components necessary. We'll also print the fabric for you!
The 4 main benefits of SEG Frames:
They are easy to change out.

Offer perfect tension.

Cheap to ship.

Backlighting is easy and looks great.
Fabric Extrusions
Mounting fabric has never been easier! Whether you want to print a piece of art or display your brand marketing, we can create designs that are easy to mount and disassemble.
Wall Panels
Wall panel systems can be used in trade shows for booth designs or to create temporary walls anywhere! If you have a pop up shop, art exhibit or other need for a temporary wall, we create some amazing designs. These rigid, durable structures are strong enough to hang heavy wall art.
Our customers also like to use these at trade shows to create meeting rooms and storage spaces.
Why Use Aluminum Extrusions?
We kind of touched on the benefits of aluminum extrusions before. Let's take a closer look at the top three reasons people choose modular designs.
Unique Design Potential
Due to the vast collection of aluminum extrusions, there are practically infinite ways to assemble your booth. You can also create a booth that is scalable to different space needs. You can take one design and reassemble it in a variety of ways depending on your booth size.
If you need more marketing collateral at one event, you can easily add shelving, table top space, and more. For meeting-based events, you can create more of a lounge effect. The only limit is your imagination.
Easily Changed & Updated
Whether you're doing a BIG rebrand or just want to change some messaging for a specific trade show, you can do that with ease! "Skins" for each modular design are easily reprinted depending on your needs. Instead of using the same message every event for the next few years, print other skins to change up your messaging based on your audience. You're sure to capture more leads with this strategy.
Travels Well
Aluminum extrusions are highly portable. Put up and tear down are easy to complete, even for those unfamiliar with different kinds of the exhibit booths. Aluminum is a lightweight metal. So even smaller people are able to assemble it with no trouble. In addition to ease of packing, aluminum extrusions are durable.
As anyone who has worked in conventions and exhibit hall venues will attest to, there's a lot of banging and dropping that goes on. The travel and delivery process is chaotic to say that least. That's why your exhibit booth needs to be durable. If you visit more than two or three shows a year, you can easily wear out your booth with other, traditional booth types. Aluminum extrusions hold up to repeated use over years.
What are the Alternatives?
Now, let's talk about what other companies may use, and what the benefits and pitfalls of each is.
Tension Fabrics
Tension fabrics have become popular due to their ease of printing and ability to backlight. Need we mention they are lightweight? Tension fabrics can also be used with aluminum extrusions over paper printed stock. Accessories like shelves and brackets are easily added since tension fabrics are usually mounted on aluminum extrusions.
Pop Up Exhibits
A little different from aluminum extrusion systems, pop up exhibits are usually a matrix of collapsible poles that literally pop-up. The cases they come in can often be transformed into counters or tables. These require some type of aluminum or metal frame in order to hang accessories like monitors and shelves.
Truss Designs
Truss systems offer a more industrial and modern look to your trade show booth. They are popular at sporting events and manufacturing industries. They are often lightweight and made of aluminum. Because many of these designs are used outdoors, they are coated to withstand harsh elements that may lead to rust or corrosion. Due to the aluminum material, it's travels very well and is easy to erect.
Banner Stands
Banner stands can be used alone or in conjunction with any kind of exhibit. These can also be used indoors or outdoors. These are very lightweight, so if they are used outside, they'll need to be weighed down. They call attention to booths and displays from afar. Banners are also used outside of buildings to promote store-fronts. Banner stands are highly portable and travels easily. Banner stands come in many forms and usually feature printed fabric or thick plastic materials.
Custom/Hybrid Booths
Due to the low cost of many of these materials, you can create custom booths that use elements from many of the above trade show booth types. By working with Canwil, we can assist you in creating a custom booth design that boosts your marketing efforts and delivers a return on investment.
What Attendees Are Looking for in Your Exhibit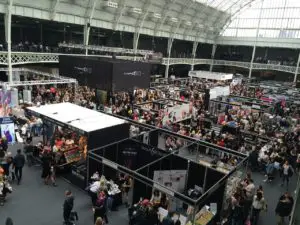 Just being at a conference isn't enough. You have to bring your A game from go, but how can you do that? What are attendees looking for these days?
Something Different
In a sea of booths at a trade show, it's easy to get lost in the din. For attendees, it's about differentiation when it comes to getting noticed. Using traditional materials in a strange way, telling a story, or creating a role-play type environment is one way to do this. As time goes on, attendees are looking for tech-based integration. From virtual to augmented reality and other tech-based engagement, customers are looking for exciting things.
Something That Addresses Their Needs
It's not just enough to "wow" people that walk past your booth. Are you actually offering your target market what they need? Whether you're B2B or B2C, your customer wants to know what's in it for them, and they should be able to tell what that is is with quick glance. You don't have much time to convince passersby that you have what they need.
An Experience
Nothing makes an impression like an unforgettable experience. The look of your booth should tell a story and draw people in. When they walk into your area, their experience should begin before they even meet one of your employees. How can you engage them in every step? Think of ways you can do this that resonates with customer needs.
Why Invest in a Custom Trade Show Booth?
Investing in a good trade show booth is about marketing. Here are some reasons companies choose to invest in a great trade show booth design:
Get Leads and Sales Opportunities
Organizations that run conferences know that companies sign up to exhibit in order to gain leads. So, they often make it easy for you to generate leads through badge scanning, offering email lists of attendees, and other things. Also, you can engage attendees by hosting games, giveaways and contests at your booth. To participate, you can get their contact information and permission to send them marketing materials in the future.
Make Your Brand More Visible
How can customers buy from you if they've never heard of you? Trade shows are a way to get more visibility among your target audience. Trade shows are an opportunity to meet with people, show off your brand logo and communicate your mission statement. If possible, hand out some great giveaways with your logo (like shirts and canvas bags). These high value giveaways will be used by attendees after the event and spread your brand even further.
Get Face Time With Customers
For companies that mostly interact with customers online or over the phone, trade shows are an opportunity to meet customers and prospects! Oftentimes people you talk to often will appear at your booth to meet your team in real life. This further solidifies professional relationships.
See What Competitors are Doing
It's easy to scope competitors at trade shows. You can simply walk past, see what they are doing, and listen to what people are saying. Really take this opportunity to learn about what industry leaders are doing. If you're a smaller company, this is important. It gives you some perspective.
Show Off New Products and Services
Do you have a new product or service you're ready to introduce to your customers? Trade shows are a perfect time. Custom trade show booths can even be designed to highlight a new product or service! If you want a rollout that makes customers say "wow," this is one way to get that reaction. Our advice: try to time your launches with a trade show.
Network with Industry Professionals
Employees are an extension of your company, and personal branding matters too. Encourage your workers to get out and network. By opening up your network within your industry, the more likely you are to get business through those networks. Get business cards and make sure to request connections on LinkedIn when you return from the event.
Hear What Customers Have to Say
Feedback is crucial to your business' success. Trade shows a perfect time to ask your customers questions. Ask them about current products, their pain points, and how you can offer them better service. Their insights give you valuable ideas on product improvement. Don't miss the opportunity to ask "How are we doing?" Ideas you get could lead to an innovation your competitors don't even have on their radar.

Marketing Your Business: How to Leverage Your Booth Design
So now that you know WHY you need a booth, we need to talk about how what design and interactive elements attract attendees.
Make it Visual
Really make your booth design eye-catching. Graphics need to be of high quality so that when it's printed in a large format, it's clear and easy to read. Your booth isn't the only thing that needs to look good. Your staff should be well-dressed and groomed professionally. They may be the first introduction to your company. As spokespeople, they need to bring their A-game.
Give Them an Experience
These days, more companies are opting to use new technologies to engage with customers. Virtual reality simulations, augmented reality posters, and in-person training are just some ways they are doing this. Think about your services and products. Is there any way you can put them on full display while giving your customer an experience?
Work on a Game
Games are fun but not always well-received. What you need to keep in mind is you need to capture a lead while offering the attendee something in return. Also, you can't make them work too hard for it. Keep the game short – just a few minutes so you are respectful of their time.
Offer Entertainment
More than ever, we're seeing companies draw people to booths by offering entertainment. Music, stand up comedy, and other performers bring people from all over the convention to take a break from the day. If you have room for seating, you can keep people there for a while, offer them collateral, and have your performer work some of your marketing into their performance.
Give Them Something They Need
You know what everyone needs? Power. Creating a device charging area will drive people to your booth – especially in those last hours of your trade show when things tend to slow down. Keep people visiting you and they will stick around for the power.
You can also do this by creating a lounge area. As your conference wears on, attendees get tired. Offering them a comfortable place to sit with beverages is a great way to make them open to hearing your pitch. If you can make it casual and comfortable, they are more likely to talk to you.
If these kinds of ideas are what you're interested in, be sure to talk with experts at Canwil Textiles!
Canwil Textiles: Your One-Source Exhibit Booth Provider
You don't need five different vendors for your trade booth needs. Canwil Textiles is a one-stop-shop for all your exhibit booth and trade show needs.
Consultants to Help You Plan
Our expert team is ready to help you from planning through to delivery of the final product. Based on your needs and application, we'll create a unique booth design for your business.
Excellent Technical Support
When something goes wrong, our technical support and customer service team is ready to help! Whether you need help with your first installation or need a new accessory for your aluminum extrusion booth, we've got your back.
Ready to create a custom booth design?