Branded Products that scream
you

!

At Canwil Textiles it's all about YOU! That's why we offer the best custom promotional items available in the industry.

Whether you need commercial branding for your business or items for your personal brand, Canwil Textiles is here to help.
How Promotional Items Boost Your Business
Promotional items come in all shapes! These are tangible products with your name, logo or some other messaging printed on it. To reach out to people in a personal way, use promotional products.
But do promotional products work? The short answer: YES!
The long answer:
According to a 2016 study by the Advertising Specialty Institute (ASI), "Consumers who receive ad specialty products will typically give them to someone else when they are finished with them, thus furthering the advertiser's reach. In the U.S. and Canada, nearly two-thirds of ad specialties that are not wanted are given away. In fact, in most countries, more than half of consumers report that they will give away a product that they are finished with rather then throw it out or file it away."
Let's talk more about the importance of reaching potential customers and business partners this way.
Creating Lasting Impressions
The trick to creating a lasting impression is offering something useful. According to the ASI study referenced above, "Consumers want products that are, first and foremost, useful to them, especially when it comes to the more practical items such as writing instruments and USB drives. Here, usefulness outweighs attractiveness by at least five to one. However, that's not to say that attractiveness isn't important, especially if the item needs to be worn. For outerwear, attractiveness is a very close second to usefulness in reasons for keeping the product, with more than half of those who own outerwear reporting they keep it because it is attractive. If you want a customer to use the product for reference, then calendars are the way to go. Apparel items, whether they be shirts, outerwear or hats, are cited as the most enjoyable to have.
So, if you're looking for fabric-based options – think usefulness FIRST. Items that are attractive and useful to customers make a huge difference in how customers interact with your brand.
Reaching the RIGHT Audience
Consider for a moment your brand, your product, and what you have to offer prospective customers. Now, think closely about what that ideal customer is and what they need. Your custom promotional items should reflect those needs.
Did You Know?
85% of audiences recall brands most when they give away apparel items!¹
Custom Promotional Items for Commercial Brands
Not sure what Canwil Textiles can do? Let us give you some ideas:
Canvas Bags

: Canwil prints of a variety of fabrics, including canvas! Canvas tote bags are a popular, high-value promotional item. Not for high attendance functions, promotional canvas bags should ideally be used for selective corporate gifts like swag bags or vendor/employee onboarding.

Reusable Bags

: Reusable bags offer visibility that keeps on giving. When recipients use the bag, not only are they reminded of your brand, but anyone who happens to see it are reminded.

Apparel

: As we've previously stated: apparel is king. Canwil offers services that allow you to create apparel and other items from printed fabrics.

Trade Show Signage

: Branding matters most at trade shows! Make a lasting impression on audiences is crucial at a large trade show where it's easy to get lost in the multitude of companies. Stand out through large format printing of trade show signage such as flags, backdrops, and banners.

Spandex Table Covers

: Talk about versatility. Our spandex table covers communicate lots of information from afar. Need a logo printed? No problem. Maybe you need your mission statement or product offerings listed? We can help you with that too.

Inflatable Furniture

: Inflatable furniture is a great accessory to trade show booths, displays and even as in-store pieces. Canwil Textiles prints on this material and more for custom fabric printing.

Step and Repeat

: Need a photo backdrop or a background for your red carpet? Canwil's popular step and repeat capabilities are perfect for these uses.
Interestingly, commercial brands aren't the only organizations that benefit from custom promotional items.
Personal Branding with Custom Promotional Items
Commercial businesses aren't the only entities that benefit from custom promotional items. In today's "gig" economy, many people are one-person business. Do you offer your services for freelancing or are a sole proprietor of a business? Then promo items may be right for you!
According to Wikipedia, "Personal branding is the practice of people marketing themselves and their careers as brands. While previous self-help management techniques were about self-improvement, the personal-branding concept suggests instead that success comes from self-packaging."
Your personal brand matters. When you're building your personal brand, you may find yourself working in different environments. Those who stand out in their respective industries are often asked to speak at public functions, go to industry events, and attend networking events. Having a little something to leave behind besides a business card is a great way to make an impression.
Print your logo printed on anything: from apparel to trade show items.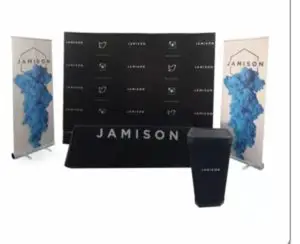 According to Glassdoor, "Today, it's not only important to be good at what you do, but also to become visible to the right people in the right way. That doesn't mean sucking up to your boss, though. The key is to position yourself as an expert so that you're looped into all the important events and activities in your organization, and your opinion is sought after by the top people in your company. It's about being relevant, creating value for your company and proactively communicating to others in your organization."
That's how the pro's do it! Are you ready to start promoting your personal brand?
Canwil Textiles: Capabilities You Can Count On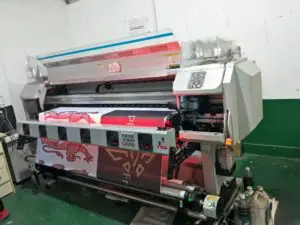 Custom fabric printing is one of our specialties. This large format printing technique allows us to create stunning designs for promotional pieces. Our trade show products benefit greatly from this technology.
In addition to that, Canwil Textiles is a leading wholesale fabric manufacturer in the Atlanta area. Our company utilizes various high-quality fibers and yarns including: spun cotton, polyester, polyester/cotton blended, polypropylene and 100% synthetic filaments.
This way, we can meet the needs of all our customers.
We're Aren't Just Manufacturers – We're Consultants
Canwil Textiles is more than just a manufacturer and wholesaler of high-quality custom fabrics. We are also your partners in business. We want you to succeed, and we're here to help you promote your business and personal brand. Don't hesitate to call us for a FREE consultation and to learn more about what Canwil Textiles can do for you.
Sources
Impressions-Study-2016.pdf